It has to be faced up to – summer has arrived. This morning it was 33 degrees by 9am, so I dread to think what it will be by midday, and we're only just into June. We've avoided the air conditioning during the night so far, but I was sorely tempted at about 3am when both of us, and at least two cats, were practically fighting over the optimum position on the bed for maximum overhead-fan benefit. Some years, when we were still naive enough to be here during July and August, and the electricity has gone off during the night, I have slept on a lilo in the pool – I figured I would wake up if I fell off. Last night, I could have gone for that option if it hadn't meant blowing up a lilo at 3am and Gorgeous Gordon the feline lilo-killer hadn't been prowling around looking for potential latex victims.
The upside of this early hot weather is that the humidity is giving us some very pretty pink sunsets over the Greek island of Kastellorizo, which is outside our kitchen window. Here's one from this week:
The garden is also looking a treat – it had a bit of a serious tidy-up in the spring, but the copious quantities of sunshine, coupled with some extra watering to encourage the avocados to reach full size, have resulted in everything bouncing back with a vengeance.
We are now looking forward to being back in Cornwall, catching up with friends, walking on the Bissoe Trail (which is handily close to our front door), and visiting a few places that we haven't yet had time to explore. Last summer, we were mostly confined to one room while the living floor of our house was being renovated and I was cooking on a two-ring camping hob in the utility cupboard, so it will be wonderful to have an entire house and garden at our disposal this summer.
The house is now almost finished and the guys are working on the final room – the guest bedroom – which means we'll be able to have friends and family to stay if they are willing to brave the long drive south. Handily, the house next door to us has just been sold and our building team are moving over there to help the new owner with some bits and pieces, so they have been keen to stress that they are within easy shouting distance if their cake/biscuit tin should suddenly find itself full or if there is a stray pot of Waitrose Kenyan coffee that needs drinking.
On that basis, I decided it was time to practice my scone technique, as I am sure a full-on Cornish cream tea will be called for at some stage – jam first, don't forget – this is Cornwall we're talking about, not Devon (cream first). I went to my friend John for a much-needed haircut in the week – he is having his kitchen renovated, so I decided a large supply of scones for his freezer might help him through the trauma. Surprisingly we can get clotted cream here in Turkey – it is traditionally made with buffalo milk, though I am sure some of it is cow's milk these days. I had just made an enormous vat of apricot jam, which isn't entirely traditional for cream tea, but I can report that it slipped down very nicely on top of a freshly-baked scone.
This recipe is very simple indeed – you can make the dough by hand, but a food processor makes the job even easier if you have one. I have a small bowl processor which came as a free gift 14 years ago from our local Bosch shop with our washing machine and tumble dryer(!?), which doubles as a mixing bowl if you remove the blades – it is such a useful thing, as it also sits nicely on top of my electronic scales, so washing up is entirely minimised. It looks like this and costs about £25 if you are interested: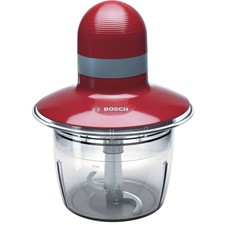 If you use a normal food processor, don't be tempted to add the liquid into the processor or you will probably end up with over-worked dough and scones which are like lead – instead, tip the whizzed-up flour and butter into a bowl and use a table knife to blend in the liquid.
Very important – do make sure the oven has reached the correct temperature before you put the scones in, or that could affect the rise. The scones will come to no harm if they sit around for a bit – you could even make them a few hours ahead and bake them when you are ready – in which case, just leave them covered with a tea towel at cool room temperature (not the fridge).
I made double this quantity, which is why my lump of dough will look bigger than yours. If you have one, use a deep-sided roasting tin to make your scones and don't put them more than a couple of centimetres apart – you want them to rise upwards, not outwards.
If you don't have a pastry cutter, just shape the dough roughly into a round, then cut into 8 or 12 triangular segments.
Simple scones
Makes around 12 scones
You will need a 5cm pastry cutter and a deep-sided roasting tin or cake tin, lightly greased (you could also use a baking sheet, but your scones probably won't rise quite so much)
225g self-raising flour
1 teaspoon baking powder
¼ teaspoon baking soda
pinch of salt
40g butter or margarine, cut into small cubes
75g sultanas (optional)
150ml milk, or non-dairy milk with a squirt of lemon juice or a teaspoon of vinegar
A little milk to brush the tops
---
Pre-heat the oven to 220ºC.
Sieve the flour, baking powder, soda and salt into a bowl or small processor and add the butter or margarine. Very gently rub the butter or margarine into the flour mixture or pulse briefly in the processor. The mix should have the texture of fine breadcrumbs.
Gently stir in the fruit, if using. Make a well in the centre of the mixture and pour in the milk. Stir with a table knife until the dough just clumps together.
Tip on to the work top, adding any dry bits that haven't mixed in. Very gently and briefly pat the dough together and shape with your hands into a ball, adding just a tiny bit more flour if everything is a bit too sticky.
(Admission – forgot to photo the bit where it became a ball, let's move swiftly on).
Pat the dough down with your hands until it is about 2 – 3cm thick. Dip the cutter in flour, then cut as many scones as you can, using a straight-down action. (If you twist the cutter, the scones won't rise as much). Gather together the remaining dough as gently as you can, pat down again, and cut as many more scones as you are able – you should get 11 or 12.
Place the scones on the greased tin and brush the tops very lightly with milk. Bake for 12 – 15 minutes until well-risen and golden brown on the top.